World Continence Week 2021 may have finished but the topic remains as important as ever. We know that bladder and/or bowel issues are a concern for many people living with MS.
For those who didn't see it, here is a two-part article we collaborated on with Continence Foundation of Australia. This personal story and supporting facts about continence and incontinence, may be useful to you or someone you know.
With the right information and support, incontinence can be managed to maintain a healthy and active lifestyle.
What you don't see about living with MS: Andrew's Story
Continence concerns are one of the most common symptoms of MS (multiple sclerosis). Andrew Potter spoke with Bridge to share his story of the 'invisible' side of MS.
"If I'm sensible and informed, and I've got the right gear, then it's not as challenging as people that are not exposed to this might think. Yeah, I have accidents from time to time. That's reality. I deal with those. Sometimes it's embarrassing, sometimes it's quiet and doesn't matter."
Andrew Potter only has to look out his dining room window for a beautiful view down the street. But unlike most work-from-home setups, Andrew's street leads to the Tasmanian Bass Strait.
His love for the ocean has taken him to some amazing places. In 2015, Andrew sailed with other people living with MS on board the Oceans of Hope yacht. He was in the crew that sailed from New Zealand and along Australia's eastern seaboard, as part of Oceans of Hope's circumnavigation of the globe. The goal was to raise awareness about MS and challenge the public's expectations of what living with MS can be.
Andrew has lived with MS for more than 30 years. Without pausing, he remembers the exact date of his diagnosis.
"It was a challenging time, my diagnosis. I was diagnosed on the 13th of September, 1989," he says. "It's corny now in reflection, but I had a numb finger and thumb and thought I needed new reading glasses because my vision was blurry."
He travelled from Tasmania to Melbourne because there was no MRI machine in the state at the time. A series of tests and specialists confirmed he had MS. It was a shock for Andrew – he was 23 and had only been married to his wife Jane for a year.
"I was only very young when I was diagnosed. And as a bloke believing I was infallible, I had to grow up very quickly. I was a young man in my 20s, now with an irreversible neurological condition that was going to be with me forever."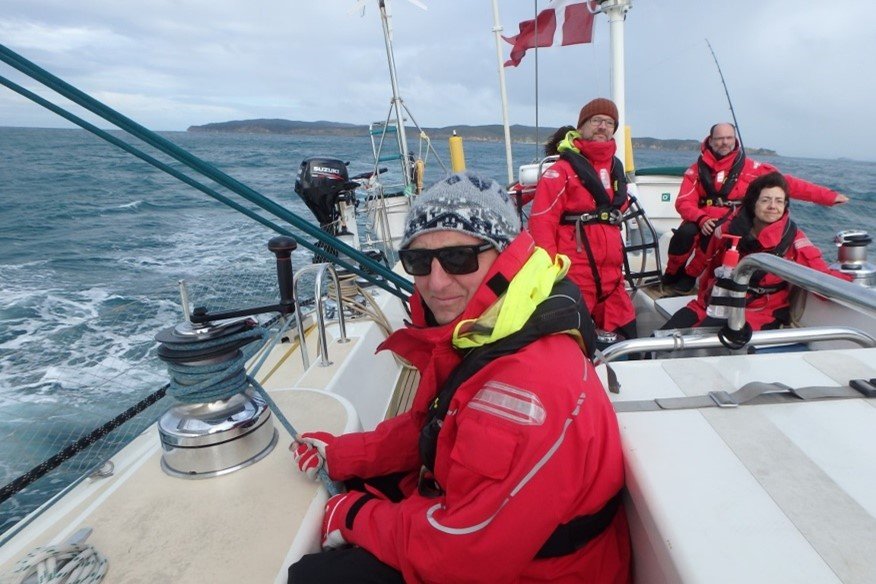 Effects of MS
Andrew has eight lesions in his spine and brain due to MS, known as plaques. He has experienced unpredictable MS relapses (attacks) that have come and gone during the past 30 plus years.
His first experience of this was soon after his diagnosis aged 23.
"Six months later, that's where my real journey started. I lost sensation from navel down. Things like bladder function, bowel function, sexual function – nothing worked, no sensation. This took about 12 months before all function returned pretty much."
He speaks matter-of-factly about his condition now. "I'm at the stage now, after so many years, of having secondary progressive MS. This is not as challenging as it sounds. It just means that my body is affected by MS. I'm not going to revert back to pre-MS status but I'm managing the symptoms as best I can."
"I've lots of systems in place to manage and cater for the different challenges that I experience each and every day."
Andrew says these include fatigue, loss of sensation, double vision (diplopia) and his biggest challenge: heat sensitivity (thermal regulation), where the body doesn't regulate heat. Bladder and bowel symptoms are also common with MS.
"Continence is a big one for me. Some days it's fine, some days it doesn't work at all."
Why planning ahead matters
He jokes, "I have a reputation in my family for knowing where every public amenity is throughout Tasmania – because I've used them all."
While Andrew is being lighthearted, planning ahead like this helps him enjoy everyday activities safely. His knowledge of local toilets recently came in handy: "We were in a store and I thought oh, I know what I need to do now. I need to evacuate my bowel. I had probably about three or four minutes time up my sleeve. I managed to jump in the car and go to the closest public facility that I hadn't been to for years."
"And I made it in time. I thought this is really good that I knew where the local facilities were. This made it so much more comforting and relaxing for me, that I had avoided having an accident that day."
"My own continence is not a stress for me now, it's just like part of your planning when you park the car… How much is the meter? How close is the public facility?"
Support from health professionals
Andrew credits nurse continence specialists with providing invaluable support since his MS diagnosis. "I've had terrific support from a range of continence nurse advisors. They've all been fantastic in relation to advice and information."
"It was challenging in the early days to talk about things so deeply intimate, but when it made a positive difference, it was so fantastic."
Now 55, and with two adult children and ever-supportive wife Jane, Andrew is guided by a "sensible and strategic" approach for his overall health and wellbeing. He stays fit and eats healthy. He works from home as the National Advocacy Coordinator for MS Australia, where he's passionate about sharing the voices of people living with MS to create positive change.
Looking to the future
He's also looking forward to the discoveries ongoing Australian and global MS research can achieve. "Just over the horizon somewhere close, I'd like to believe that there will be a cure, and throughout the world there are great researchers working on this."
"…Might not be in my lifetime, but for the next generation certainly."
The facts about MS and continence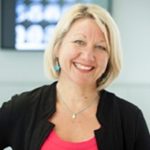 Dr Therese Burke is an MS Certified Nurse and Research Fellow at the University of Notre Dame, Australia and Clinical Platform Coordinator at MS Research Australia/MS Australia.
Multiple Sclerosis (MS) is an autoimmune disease. The coating that protects nerves in the brain, optic nerve and spinal cord is damaged by complex changes in the body. MS is known as an autoimmune disease because it looks like the body attacking itself, for what reasons we still do not clearly know.
Bladder and bowel issues are very common in MS. For some people this may only be short-term with a relapse, and for others the problems can be more long-term.
Bladder issues can include problems with storing urine (leaking, flooding), problems emptying urine (spasms, going to the toilet for small amounts very often) or a combination of both in some cases. In the area of bowel issues, some people can experience periods of constipation or a loss of control of faeces.
There is help available. Continence nurses have special training in bladder and bowel issues. They are an important part of the management plan for people living with MS. Most MS Nurses will also have some training in continence as well and can perform initial assessments to determine the best pathway forward. This may mean some simple changes to your diet or a referral to a urologist (bladder) or gastroenterologist (bowel).
There is support and management to improve things along the way. People can get targeted help once the source of the problem is found. This support could include:
medications and Botox injections to calm an overactive bladder and bladder spasms
antibiotics to treat urinary tract infections
other procedures that are less common, such as catheterisation.
Download our continence care symptom sheet for more information and tips: http://ow.ly/DGk650FezCi
Article source: Continence Foundation of Australia, Bridge Magazine, Winter 2021 edition. View the article on page 12 in Bridge Magazine here.
For further information relating to incontinence call the National Continence Helpline: 1800 33 00 66