Every moment, every sensation and every symptom that leads to a person's MS diagnosis can be crucial. For Sarah, there's one moment that stands out.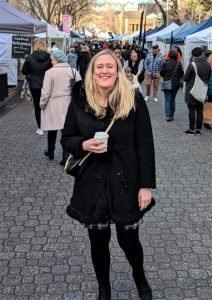 First, let's rewind back to early September 2015. Sarah was on a trip around America and experienced tingles in her feet. The tingles progressively spread up Sarah's legs and arms, and eventually to most of her body – "it felt like my body was constantly reverberating."
Approximately a week later, Sarah experienced what is commonly known as an 'MS hug': a feeling of pressure around the chest or abdomen. Coupled with intense lethargy, Sarah visited a GP who concluded it was likely a pinched nerve or magnesium deficiency.
Once home, Sarah's mother insisted she see another doctor to investigate these symptoms further, who subsequently referred Sarah to a neurologist.
The appointment with the neurologist initially provided no answers, as an MRI was deemed unnecessary at that point.
However, as Sarah was about to leave, she bent down to pick up her bag and felt an electric shock down her spine: a pivotal moment.
"It was a symptom I now realised I had before the other symptoms, but I barely noticed it. That moment changed everything."
Sarah told the neurologist what had happened and said, "when I put my chin to my chest, I get this electric shock down my spine". Sarah's neurologist immediately reversed his earlier decision and now deemed an MRI necessary.
Less than a month later, Sarah was officially diagnosed with MS.
Sarah, now 32, is taking on the Kiss Goodbye to MS K'gari (previously known as Fraser Island) Trek in May 2022. She is doing this as a "tribute to all the people who fundraised before me and funded the research that led me to be on the medication that I'm on that has saved my life."
When reflecting on her journey up to that point, Sarah knew very little about MS prior to her diagnosis, aside from her friend's dad living with MS.
"The not knowing makes it more terrifying," Sarah says. "To learn it often hits women my age, in the prime of their lives, seems more devastating. Why didn't I know this?"
At the beginning, Sarah felt quite alone and said "I cried pretty much every day for about six months. It's a weird grief that no one really understood."
She had three lesions on her brain and experienced limited symptoms, saying that her "battle was more mental than physical", with one of the biggest things being unable to find stories about people like her: a rapid diagnosis and not heavily impacted by their symptoms.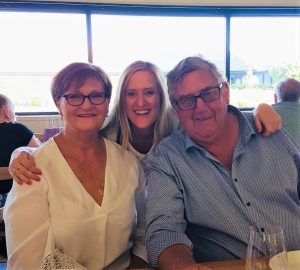 Sarah found however that the best way to cope for both herself and her family, was to read as little as possible about other people's experiences and take on her own MS journey.
"I had to relinquish control to my doctors and focus on the things that I could control like diet, exercise, sleep and stress, but most importantly, my attitude."
Six years on, Sarah is incredibly open and comfortable with her story, and is happier and healthier than she has ever been! "I have a real sense of appreciation of all the things my body can do and the things I want it to do while it can."
One of those things is trekking 50km across K'gari for life-changing MS research! Sarah's love for bushwalking and hiking, mixed with her strong passion for MS research was the perfect catalyst for taking on the challenge.
"Research led to my treatment, and it will mean I get to live a relatively normal healthy life that, if I was diagnosed 10 years earlier, I never would have had that option. Research saved my life. It's that simple."
Sarah praises both the early detection of her MS and research, stating that thanks to her medication, "I forget I have MS most days. And that is an outcome that never would have happened without MS research."
So far, Sarah has raised a phenomenal $4,268 to power world-class MS research, and gives thanks to her incredibly supportive family and friends, who always show up for all her fundraising activities!
We can't express enough our thanks to Sarah and her generous network, for playing a huge part in our mission to Kiss Goodbye to MS once and for all.
We are so excited to see Sarah continue to shine and share her story. One of her goals, (aside from completing the Kiss Goodbye to MS K'gari Trek), is for "more people to know more about MS so that we can debunk a lot of the stereotypes about what people think it is."
Sarah – thank you for openly sharing your story and being such a huge advocate for MS research.
If you want to join Sarah across K'gari and explore the diversity of this world heritage-listed island, now is your chance! Due to COVID-19, the challenge has been rescheduled to 10-14 May 2022. Find out more here.
For more information on how you can raise funds for life-changing MS research, please head to: http://www.kissgoodbyetoms.org or contact the Kiss Goodbye to MS team on 1300 785 717.