2021 has completely flown by, but what a magical ride it has been. 
Following a record-breaking 2020, YOU made 2021 another year that we'll never forget. Your unwavering support and dedication to fulfil our shared dream of a world free from MS is truly inspiring. You aim higher every year, working tirelessly to Kiss Goodbye to MS, and for that, we are incredibly grateful. 
This year you have raised over $5.3 million for life-changing MS research – that is a phenomenal result! There aren't enough words to express our gratitude for your fantastic support. 
As the beating heart of Kiss Goodbye to MS, you take part in The May 50K with passion, organising fundraising endeavours. You like, comment, and share our social posts, donate, volunteer and rock our merchandise…there's no stopping you! Everything you do in support of MS research leads to monumental developments toward prevention, knowledge and tools, better treatments and a cure for MS. Your support has a lasting and life-changing impact on the quality of life of people living with MS. 
So thank you. Thank you for continuing to accelerate our superpower – MS research. 
Let's look back on the enormous milestones reached in 2021! 
You raised over $5.2 million in The May 50K!

This year marked the third year running (literally) of The May 50K, and what a year it was! 
This May we saw over 28,600 Australians leave their limits behind. Once again, more people participated in The May 50K than the over 25,600 Australians living with MS, highlighting the incredible force working towards stopping MS in its tracks! You took on a range of inspiring activities, including cycling, running, horse riding, arm cranking, walking and paddle boarding – nothing was off-limits. Some even completed their 50km in one day, taking the challenge to a whole new level!   
Together, you and your teams logged a phenomenal 1,273,899 kilometres as part of the challenge, which equates to 31 laps around the world!  
The competition heated up this year, with over 500 workplaces taking part, including Atlassian, Coca-Cola Europacific Partners Australia, Nuzest, JBL and many more who fought for the top of the leader board, raising over $841,000 to leave MS behind.  
YOUR combined efforts resulted in an astounding $5.2 million raised for vital MS research – an absolutely magnificent outcome that will help improve the lives of people living with the disease today and in the future! THANK YOU, THANK YOU, THANK YOU! 
The global movement continued to shine! 

Once again, our friends across the globe celebrated huge success in The May 50K  – with participants from the US, Canada, Ireland, Netherlands and the UK leaving their limits behind. Collectively, they raised a massive $2.2 million (AUD) for access to treatment and research into MS in their home countries! Watching the international growth of our Australian-born initiative, The May 50K campaign makes us so proud and excited for the future treatment landscape of MS.  Seeing the growth of global MS research collaborations is exciting. Our teamwork is helping to shape a better future for the 2.8 million people living with MS across the world.   
Since the inaugural launch of The May 50K in 2019, you've now raised over $14 million in Australia and $17.4 million globally to accelerate MS research. You should be so proud!
Our K'gari and Tuscany teams soldiered on!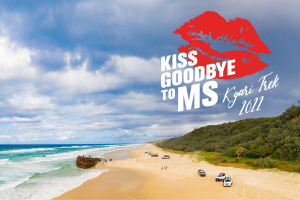 With no international or domestic travel allowed for most of the year, we had to postpone our Tuscany and K'gari (previously known as Fraser Island) Treks to 2022. 
 The disappointment of rescheduled dates could not dampen the tenacity of our Kiss Goodbye to MS adventurers who continued to promote their treks and raise vital funds for MS research. 
Our Kiss Goodbye to MS Tuscany team,  set to depart for their Italian adventure on October 15, have so far raised an incredible $22,214!  
And our team of domestic adventurers preparing to explore K'gari on May 14 have already managed to raise $14,125! 
We couldn't be prouder of our teams for soldiering on and continuing to promote their treks during such uncertain times – thank you for your unwavering commitment to powering world-class MS research! 
There are some spots left for both adventures – not many though! If you want to make your travel dreams a reality whilst raising funds for MS research, check out more information about K'gari and Tuscany or email us at kgtms@ms.org.au. 
The impact you're making on the over 25,600 Australians living with MS and their families by accelerating MS research is truly life-changing. 
YOU are making history. YOU are helping to make MS a thing of the past. 
Thank you for being the driving force behind Kiss Goodbye to MS, for putting your trust in us each year, for your passion and belief in our mission – you are our biggest motivation and inspiration.    
We will stop at nothing to Kiss Goodbye to MS once and for all and we are so grateful to do this alongside each and every one of you. 
Bring on 2022!