Smart, funny and incredibly fit, Emily Petricola calls herself the "Queen of Denial". "I prefer not to think about the things that are affecting my body", says Emily.
Nevertheless, she is keen to work with MS Australia to broaden awareness of MS around the nation.  Emily feels that MS is still poorly understood and finds being told, "but you look so well" really offensive. Rarely asked by journalists or the public about her MS, she is more often asked about being a Paralympian.  Like many living with MS, Emily's symptoms are invisible and she wants to do more to get the word out.
Emily has set out to prove what her body can do.  Despite dealing with constant fatigue, overheating, tremors in her arms and legs, foot drop on the left side, tingling and nerve pain in her limbs, and hands that don't work properly, her training program is rigorous.
"My MS doesn't define me or how I operate in my life".
Emily's cycling credentials speak for themselves.  Such is her drive and dedication to the sport, in just three short years of competitive cycling, Emily, classified as a WC4 Australian Paracyclist, is now the 2019 IP (individual pursuit) World Champion and World Record holder and the 2019 Road Time Trial World Champion.
Emily credits much of her success to the involvement of two other Australian Olympians.  Matt Ryan (Olympic rower) set up Emily with a stationary bike in her office, with the aircon on and a fan in her face and started her training.  Shane Kelly (cyclist) responded to Emily's request for coaching and the training began in earnest.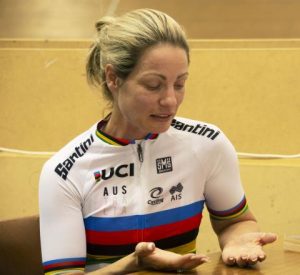 Cycling with numb, tingling hands is a challenge.  "I was training in Italy this year, one hand came off and I had a big crash as a result, coming down a hill", recounts Emily.  Specialists at the Paralympics Australia and Australian Institute of Sport are working together to make better handle-bar grips on Emily's bike to increase sensation through the tips of her fingers as her palms are completely numb.
Emily also talks about issues with heat.  "My face gets really hot, in fact I have bad sensory input all over my body; my core temperature doesn't change that much but because my brain thinks it does, it starts shutting things down and short-circuiting," she describes.
So how does Emily manage heat when training?  Emily says, "when training on the track I use a cooling towel under my helmet and then I sit with ice vests on between sessions, plus I keep my jersey wet. All of these things stimulate a feeling that I'm cool enough."
Ahead for Emily lies the 2019-2020 Tissot UCI Track Cycling World Cup in Brisbane in December where the world's best track cyclists "battle for gold" and earn valuable qualifying points for the Tokyo 2020 Olympic Games. Beyond that there is Cycling Australia's Road National Championships in Ballarat in January, the 2020 UCI Para-cycling Track World Championships in Canada later that same month, with more training and international events in Italy and Belgium in the first half of 2020.  And then it's Tokyo!
You can check out Emily's profile on the Australian para-cycling team web-site.  While you're there you might see another familiar face from the MS community, Carol Cooke – a great team-mate of Emily's.  To check them out, please visit: https://www.australiancyclingteam.com/athletes.html
We hope you will join MS Australia in following Emily's progress in the lead up to the Paralympics in Tokyo 2020.  We will be posting about Emily – regularly.
You can also follow Emily's lead up to Tokyo 2020 on Instagram (em_petricola_cycling) and Twitter (@emily_petricola).
And finally, to show that Emily is not only a brilliant dedicated World Champion cyclist but also a terrific writer, you can read an article by Emily in the sporting journal, Athlete's Voice.  In this article Emily tells more about her MS journey, her ways of dealing with her diagnosis, who she turns to for support and advice and how she copes with her MS symptoms.
Please visit: https://www.athletesvoice.com.au/emily-petricola-two-olympians-who-saved-my-life/#sDIpZGU8fIzQQcJw.97